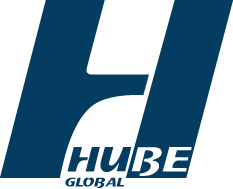 Blue expresses
sophistication, trustworthy, and ambition.

The shape of Bridge represents the linkages between peoples, technologies, and human and nature. Also the bridge expresses that as the global company, it's intention and future visions are to step up and expand the business area to the world.
HUBE is 'Human Being', 'Human Believe', 'Human Love', 'Hub' the word has meaning, have a ideology put the relationship between human and human frist, it symbolized the relation between human and human, human and technology, human and nature by shaping bridge.